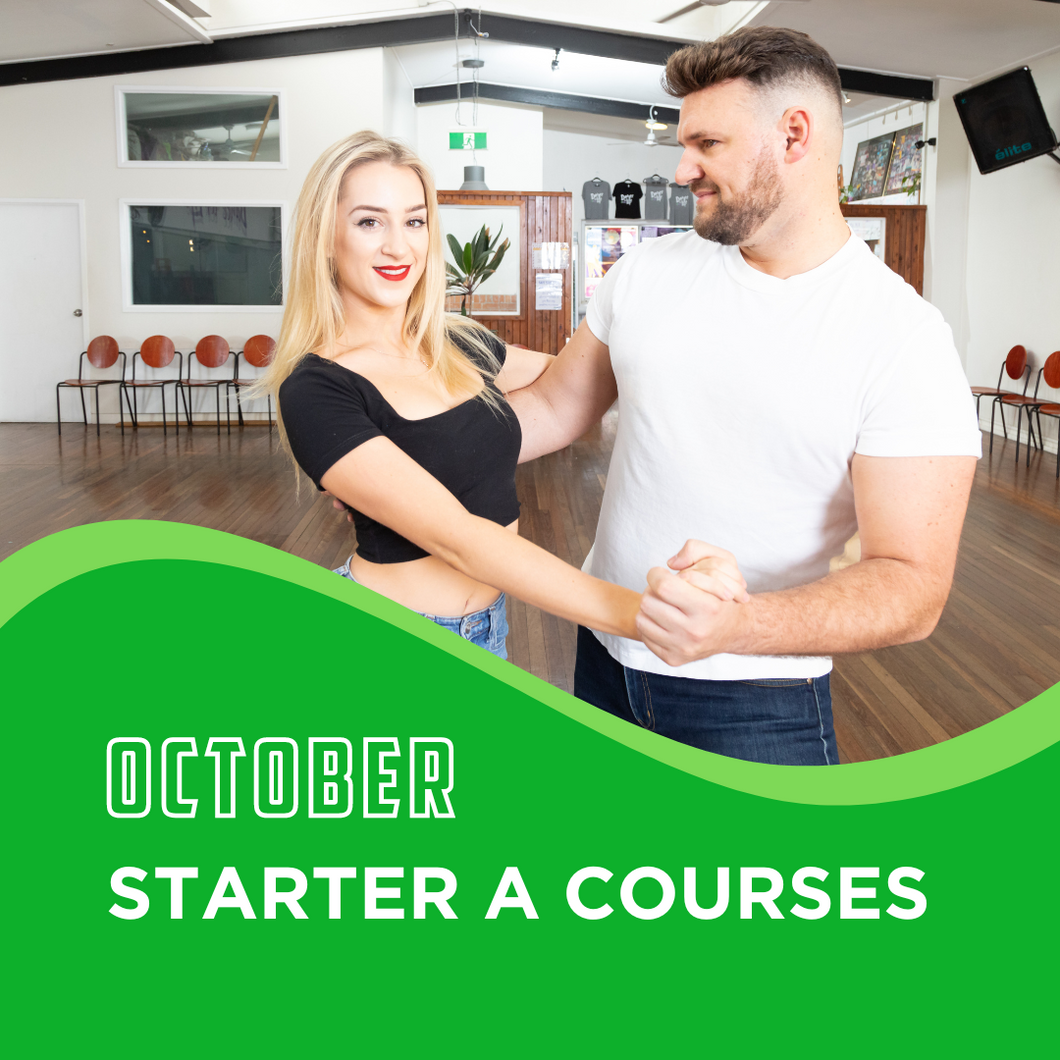 Starter Courses 10 Weeks ~ October
Regular price $199.00 Sale
LEARN LATIN DANCE TODAY!
Get UNLIMITED Starter Courses for 10 weeks.
No dance experience or partner required.
Pay Upfront on our $199 Starter Deal and receive $61 off!
10 weeks of Unlimited Starter Courses

2 Party Passes to kick off your dance experience

Members rates for all our Social Dance Nights
Check out our Starter Courses for October:
| | |
| --- | --- |
| Monday 5:40pm | Mixed Latin Styles |
| Wednesday 5:40pm | Brazilian Samba |
| Wednesday 6:40pm | Samba de Gafieira & Bolero |
| Thursday 5:40pm | Bachata |
| Sunday 2:30pm | Cuban Salsa |
 
==============================
Enrolment is quick and easy:
Select your Starting Week

Choose your preferred Starter Course Day & Time

Pick your Booking Option

Click BOOK and secure your spot!
Once you have paid for one Starter Course you'll receive a welcome email where you can reply with any additional dance courses you want to attend.
You can join one or any of the above courses for the 10 weeks. The choice is yours!

==============================
Welcome to a world of new social connections, fun moves, amazing music, and the beginning of your Latin Dance adventure.
At our studios, you'll discover a friendly, fun, and vibrant environment where you'll feel right at home in no time. We're like a big family made up of people from all walks of life, coming together to dance, connect, and have fun. When you walk up the stairs, leave your day behind and get ready to leave with a smile.

==============================
We're thrilled to have you as part of our 'Dance for Life' tribe and can't wait to share this dance journey with you.
Visit our website for full Terms and Conditions > Term & Conditions
==============================
FAQs
What do I wear?
All you need are some comfortable shoes that will stay on your feet (not slip on), and comfortable clothes you can move freely in. You'll find people in clothes they wear to work, jeans and a tee or activewear. It's casual, that's why we recommend comfortable clothing and non-grip shoes. Classes are relaxed but professional, and lots of fun!

When do my 10 weeks start?
Your 10 weeks of unlimited classes start from the first class you attend after purchase. We accept enrolments until the end of the second week, which means you can join up until the second class (week two) of the course.

What if I can't make every class?
The classes are taught in a progressive format, that means each class builds on from the previous class. However, if you do miss a class, that's okay - we recommend attending one of the Mixed Latin Styles Starter courses (in your block) as your catch up lesson.
If you know that you'll have to miss more than one class, we recommend reaching out to our admin team who can help you find the best solution.

What happens at the end of the 10 week course?
At the completion of the 10 week starter course, we celebrate your graduation day with all your new dance friends! Many students continue their dance journey by either enrolling in another 10 weeks of Starters or moving onto Foundation level of a particular dance style.