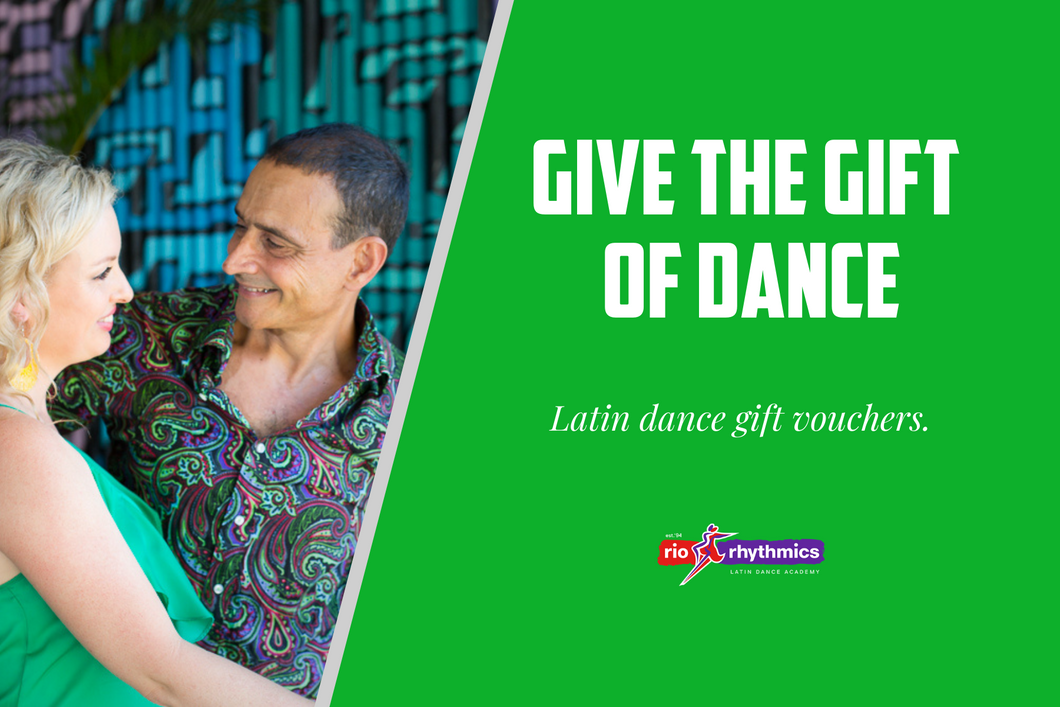 Latin Dance Gift Card - Give The Gift Of Dance!
Regular price $133.00 Sale
Looking for a gift to bring joy, connection, fun and quality time into a loved one's life? The benefits of Latin dance flow far beyond the dance floor and can be taken with you for life. 
Whether you've got a friend or loved one who's already a lover of Latin dance, or you're looking to surprise someone with something a little different we've got you covered. 
You can choose the value that covers our ongoing courses, a Starter Course Deal, Private Lessons or an amount that will go towards someone purchasing their own or which can be used on dance courses, starter courses, workshops, parties or private lessons.
For people new to Latin dance we suggest:

> 10wk Latin Dance Starter Course (most popular)
> Private Lessons - various options available, see drop-down menu
> Double Party Pass for our regular Saturday Night Latin Mix Intro Lesson & Social
> General Gift Cards at your chosen amount
All Starter Courses are valued at $240 per person including 10 weeks of unlimited access to ALL Starter Courses in your block, access to make up classes if away, member benefits including after class catch-ups, and member-priced parties and workshops.
More options:
> Double Party Pass $28
> 1hr Private Lesson for up to two people $120
> Private Lesson 5 Pack $540
> Gift Card valued at $50
> Gift Card valued at $100
> Gift Card valued at $150
> Gift Card valued at $200
Select the amount you'd like to spend and we'll email you to confirm the recipient details & confirm which product you'd like your Gift Voucher to be made out for - or as a value based Gift Card.
Then you'll receive your Gift Card via email for easy-peasy gifting (we can mail also if you prefer, just let us know), or you can pick up in the Studio during admin hours.
All vouchers are subject to our full Terms & Conditions. Of note: Non-refundable. Can be transferred to another person. Gift Cards valid for 3 months from date of purchase.