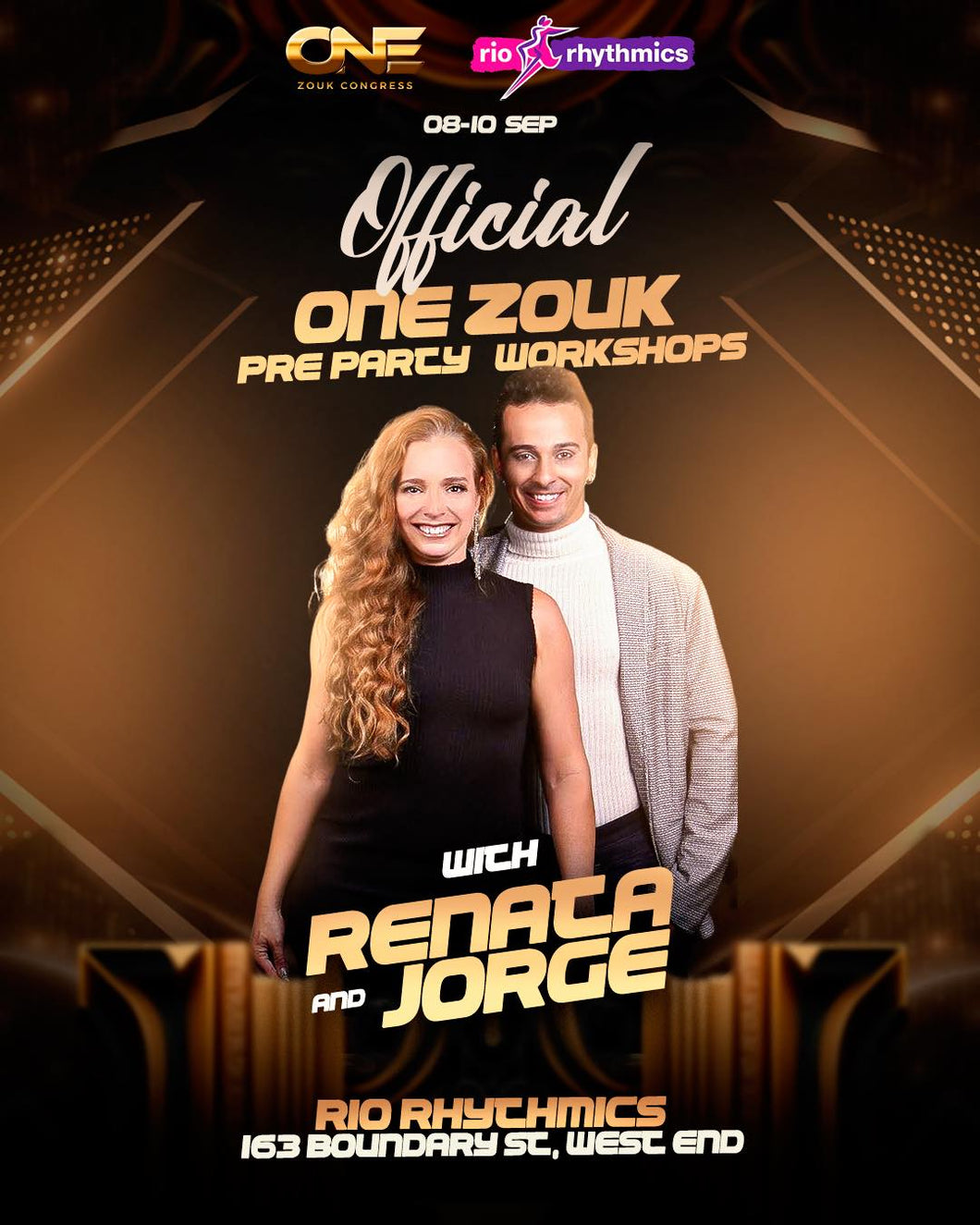 One Zouk Pre-Party & Workshops with Renata & Jorge
Regular price $209.00 Sale
✨ Exciting news! ✨
Renata & Jorge are jetting into Australia for the One Zouk Congress in Adelaide, and guess what? You get to dance with them first right here in Brisbane with us at Rio Rhythmics!
Get ready for an exhilarating Zouk weekend from Friday to Sunday, 8 - 10 September, and to dive into a world of Brazilian Zouk that will leave you craving more.
===================================
📢 IMPORTANT UPDATE: Embracing Changes with Open Hearts ❤️
We have some important updates to share regarding the schedule featuring international artists Renata and Jorge. Due to unforeseen flight cancellations affecting Renata's travel plans, we've had to make some adjustments to ensure you still have an amazing experience.
Here's what's happening:
🌟 Friday Workshops 🌟
(Original Date - now with Jorge & Juliana)
Jorge and Juliana will lead these fantastic workshops on Friday >
6:30pm - Open Level Workshop / Topic: Travelling Movements & Combos with Jorge and Juliana
7:30pm - Open Level Workshop / Topic: Favourite Social Moves with Jorge and Juliana
🎉 Friday Party 🎉
(Original Date - Jorge's Welcome Party)
Join us for a fantastic welcome party in honour of Jorge with Guest DJ's. Let's celebrate together!
8:30pm - Social Welcome Party - Studio 1
🎈 Saturday Party 🎈
(Original Date - Renata's Welcome Party)
We'll gather to celebrate Renata's arrival - still with Performances and Guests DJ's - and get ready for an incredible Sunday!
8:00pm - Social One Zouk Congress Pre-Party @ AHEPA Hall
📅 Workshop Schedule Changes:
Saturday workshops are now moving to Sunday, and we'll adjust the Sunday workshops to make room for these changes.
Sunday Schedule
10:00am - Level 1 Workshop / Topic: Exploring Creative Variations on Fundamentals
11:15am - Level 1 Workshop / Topic: Viradinha Variations
~ Morning Break 45 mins ~
1:00pm - Level 2 Workshop / Topic: Head Movements & Basic Variations
2:15pm - Level 2 Workshop / Topic: Exploring Counter Balance
~ Afternoon Break 45 min ~
4:00pm - Level 3 Workshop / Topic: Interesting Inversions
5:15pm - Level 3 Workshop / Topic: Creating Flow and Dynamics
🎟️ Ticket Holders:
If you've purchased a Friday pass, you have 3 options:
1 > Attend Friday's workshops with Jorge and Juliana.
2 > Exchange your Friday workshops for two Sunday workshops.
3 > Upgrade your pass to a Sunday pass and enjoy extra workshops.
If you've purchased a Saturday pass your workshops are now on Sunday.
If you cannot make the new times on Sunday, please reach out to our staff via email or Facebook Messenger.
If you've purchased a Sunday Pass: you have two options
1 > Attend your Sunday workshops at the new time
2 > Upgrade your pass to include all the new workshops on Sunday since you'll already be in the area.
===================================
Your enjoyment of this event is our top priority. We understand that these changes may affect your plans, and we appreciate your understanding. Your satisfaction is important to us, and we want to make sure you get the most out of your event pass.

Rest assured, we're committed to making this event unforgettable for you. We truly appreciate your support and understanding during these unexpected twists.
Please reach out to us if you have any questions or need assistance with your pass adjustments. We're here to help.
Let's come together as a community, embrace these changes, and make beautiful memories together. Thank you for being a part of Rio Rhythmics, where dance and camaraderie always prevail.
With love and gratitude,
The Rio Fam
#DanceFamily #EmbraceChange #EventUpdate #CommunityMatters #RioRhythmicsEvent #DanceTogether #CommunityLove
===================================